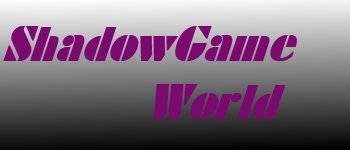 New Game Report Form
---
New Game Report Submit Form
Please use this form to submit links and game info to ShadowGame World. Click HERE to submit game report.
You may also want to check out the New Game Report page before submitting a report to see if it has already been submitted.
ADD/REMOVE
Click HERE to ADD or REMOVE yourself from the New Game Report User Group.
If you add your e-mail address you will be notified via e-mail when there is new info posted on the website.
Game reports that get submitted will also be sent to your inbox.
Release Dates


Click HERE to check out Release Dates for new games.
---
Please be as specific as possible when describing the New Game.
---
[ShadowGame World Home] [Server Status Page] [Friday Night Game Info] [New Game Submit Form] [New Game Report] [Search ShadowGameWorld.net]
Copyright © 2001 Shadow Software, Inc.
ShadowSoftware.net is a registered trade mark of Shadow Software, Inc.